Training courses data processing remote sensing (RS), which include an in-depth analysis and thematic processing of satellite images will help you in the shortest possible time to master the skills operational use of satellite imagery for applications and support decision solutions basis information about the world of the cosmos.
In during the courses much attention is paid both to theoretical basics of remote sensing and practical aspects of the processing of remote sensing data with the use of modern software. The training is conducted leading engineering and technology center «Scanex» in the specially equipped computer classes using unique teaching materials.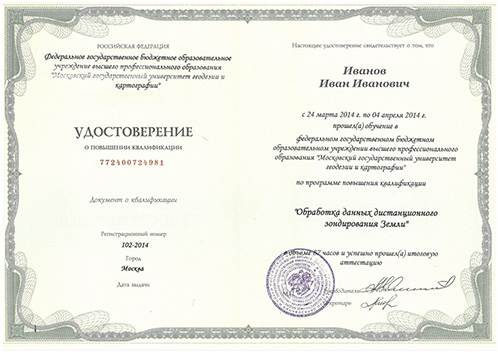 Possible individual approach to listeners: the interest of different target groups, conducting training on the territory customer and etc. After the training program "ScanEx", students receive a certificate of the end of course.
Our courses are designed for a wide range of specialists of different level of training from different industries. For the time courses specialists ITC "RDC" were trained hundreds employees, including representatives of the largest oil and gas companies, forestry, meteorological services, higher education institutions, national and regional remote sensing centers, the Ministry of emergency situations, Ministry of natural resources, environmental organizations and .
For more information, please tel./Fax: + 7 495 739 7385, or you can write a letter to the our email address course@scanex.ru
We invite you to cooperation stakeholders, universities and regional centers of training for the implementation of joint training projects.