Unique technological cycle
SCANEX is the only company in Russia and the CIS engaged in the direct reception of data from ERS satellites via its own network of stations. Processing that satellite data using its own technology and providing access to satellite imagery and products derived from them through geoportal services was key to the development of the company, which guarantees low data pricing and high efficiency of order fulfilment for all customers.

25 years
of successful market operations

Online
data access

Exclusive
distributor of the world's leading operators

Private
receiving stations and software

Unique
extensive data archive
Press center
04 April 2023
A study of the Ob-Yenisei plume structure conducted with the support of SCANEX Group
Frontiers in Marine Science, a reputable research journal, has published a report on the joint study conducted by the researches of Shirshov Institute of Oceanology of the Russian Academy of Sciences, Moscow Institute of Physics and Technology, Marine Research Center at Lomonosov Moscow State University, Marine Hydrophysical Institute of the Russian Academy of Sciences and V.I. Ilyichev Pacific Oceanological Institute. The study is entitled "Structure of the Ob-Yenisei Plume in the Kara Sea Shortly before Autumn Ice Formation". The authors of this paper extend gratitude to SCANEX Group for providing necessary AIS data.
06 October 2021
Radar Interferometry Facilitates Obtaining Data on Earth Motion
According to media reports, in the Lazarevsky district in Sochi heavy rainfall has provoked the movement of the soil causing the displacement of 20 residential buildings (8 of them were occupied) and road destruction. Gas pipeline and power electric line support systems have bent, gas and electricity supply in the cottage village has been turned off. There are no fatalities or injuries, residents have been evacuated.
Image of the week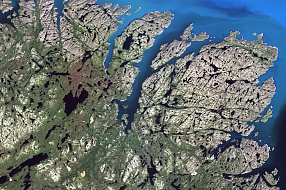 Image of the Week: Сoloring of the Arctic
Images archive
All news
Order a snapshot