Unique technological cycle
SCANEX is the only company in Russia and the CIS engaged in the direct reception of data from ERS satellites via its own network of stations. Processing that satellite data using its own technology and providing access to satellite imagery and products derived from them through geoportal services was key to the development of the company, which guarantees low data pricing and high efficiency of order fulfilment for all customers.
for implementing complex thematic projects in various economy sectors based on relevant satellite information

25 years
of successful market operations

Online
data access

Exclusive
distributor of the world's leading operators

Private
receiving stations and software

Unique
extensive data archive
for access to spatial information and integration in the organisation's internal systems and databases or external websites
Press center
Image of the week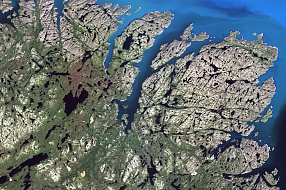 Image of the Week: Сoloring of the Arctic
Images archive
All news
Our websites

Conference
"Earth from Space"
Discussion platform for problems and development directions regarding the remote sensing of the Earth, as well as potential cooperation between the state and private business sectors.

UNIGEO
Consortium
A non-profit partnership of universities created to unite intellectual and technological resources and to improve the level of education, science and training of qualified personnel for the industry.

Magazine
"Earth from Space"
A popular science magazine covering a wide range of issues, from the preparation and processing of satellite images to the thematic analysis and practical applications of the acquired data.